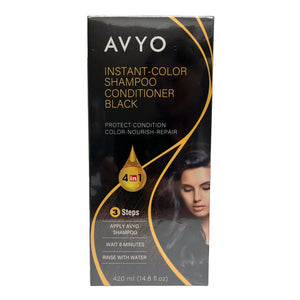 Black | Instant-Color Shampoo Conditioner | 4 in 1 | 420 mL | AVYO
Sale price Price $18.99 Regular price
FUNCTION: Avyo Instant-Color Shampoo & Conditioner is formulated with nourishing plant extracts to provide a gentle, yet effective solution for coloring your hair. It features a mild formula that is safe for hair and skin. Additionally, this Instant-Color shampoo can repair dry, damaged and split ends while nourishing hair and roots. The result is smooth, silky, and vibrant hair that's rich in color. Plus, it's quick and easy to use, making it a simple solution for achieving the perfect look.
DIRECTIONS:
First, put on gloves and a plastic cloth to protect your skin and clothing.For best results, apply the Instant directly to dry, clean hair that does not have styling products in it. It's important to press the middle of the pump head evenly to ensure an even product discharge of hair color paste to developer.
For the first application*, you may need to use a larger amount of product as the single hole discharge may become temporarily blocked. Wait for the double hole discharge before continuing with the second or third press.
Leave it in for 8 minutes before rinsing. If you're in a colder climate, you may want to extend the processing time by an additional 5 minutes.After 8 minutes, rinse out for perfectly colored hair.
*It may be difficult to cover white hair completely with the first application. However, with the second application, it should be easier to achieve full coverage. If you have a lot of white hair, it's recommended to wash your hair with this Coloring Shampoo twice a month to help maintain the color and coverage.
INGREDIENTS:
Dose 1: Water, Propylen Glycol, Stearic Alcohol, Ammonium Hydroxide (30%), Stearyl Alcohol Polyether - 15, Lanonin, Poly Two Methyl Siloxane, P -Benzene Two Amine, 4- Amino -2-Hydroxytoluene, Resorcinol, Hydroxyethyl Cellulose, Sodum Sulfite, EDTA Two Sodium, Essence.
Dose 2; Water, Hydrogen Peroxide (50%), Stearin, Nonyl phenol, Polyether-10, Phosphoric Acid.